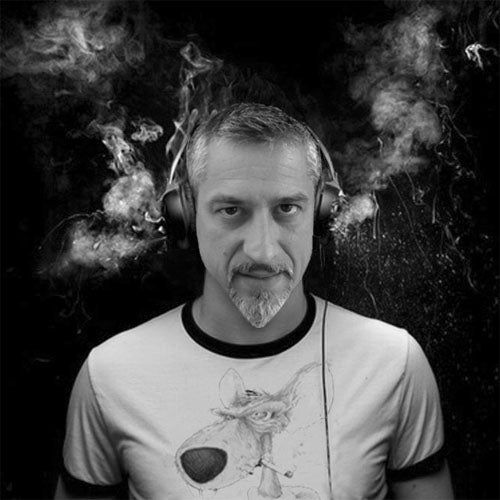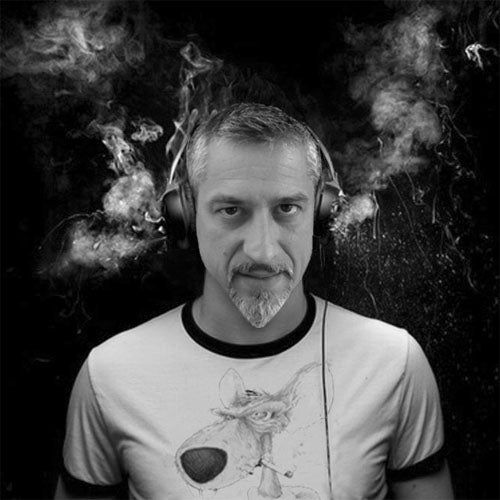 www.trippygonzales.com
Trippy Gonzales est un fondu de son depuis son plus jeune âge.
Dès l'adolescence, il assiste à l'émergence d'une nouvelle culture très prometteuse, celle des musiques "électroniques" : des prémices, avec la New Wave et l'Acid House, jusqu'à cette forme d'aboutissement qu'est la Progressive, en passant par la Techno et toutes ses déclinaisons. Chacune de ces sensibilités affine son goût et l'amène à fréquenter ses premières soirées.


Mais pour Trippy, la musique est avant tout une question de rencontres et d'amitié.
Rencontre, évidente, avec celui qui partage sa vie comme la plupart de ses affinités musicales, Paris'Topher : c'est lui qui l'initie à la technique du mixe et confirme son goût pour le son tribal et progressif ; rencontre, bien-sûr, avec Nicolas Nucci, le maître du genre, qui lui donne sa chance à la soirée Météo (2008) comme il l'avait d'ailleurs fait pour Topher lors des légendaires soirées Progress! ; rencontre, encore, avec Raph', qui lui permet d'exprimer tout son talent à la soirée "European Beardrop" (2009).
Fort de ces références, Trippy a à cœur de construire ses sets comme de vrais voyages, parfois planants, parfois surprenants, mais toujours... trippants !
Que ce soit aux soirées Météo, Beardrop, ou encore à l'after Tomate, il met toute son énergie au service d'un clubbing pointu et inspiré : avec Trippy, les idées fusent, à l'instar du projet "T&T" (Topher&Trippy) qui ne fait que commencer...

Last single released on RESOLUTION RECORDINGS and all digital platforms (Itunes, beatport, Juno, Virgin...)
T&T (Paris'Topher & Trippy Gonzales)
"GHOST" (Original Mix & Tommy Marcus Mix) on RESOLUTION RECORDINGS and all digital platforms
(Itunes, Beatport, Juno, Virgin, Trackidown, Amazon, Traxsource, Deezer...)

Resolution presents the second official track of T&T (for Topher & Trippy) , a duo of DJs and house-music producers consisting of french members Paris'Topher and Trippy Gonzales.
"SHIVA " (Topher's Vocal Mix - Trippy's Dub - Tommy Marcus Remix)
on RESOLUTION RECORDINGS and all digital platforms
(Itunes, Beatport, Juno, Virgin, Trackidown, Amazon, Traxsource, Deezer...)

- METEO (Resident La Loco, 2008/2009, Paris)
- AFTER TOMATE (Plaza Madeleine, 2009, Paris)
- EUROPEAN BEARDROP (Scène Bastille, The Eagle & Divan du Monde, 2009/2010/2012, Paris)
- RED & BLUE (2010, Antwerp)
- MEZZO GIORNO (Stuurboord/Hangar 26 & Zaal Publik, 2010/2011, Antwerp)
- A HARD NIGHT (Petrol Club, 2011, Antwerp Pride)
- INTOX (Steelgate, 2011, Brussels)
- THE BOOTS (2011, Antwerp)
- SWITCH (4 éléments, 2011, Paris)
- COCK-PIT XL (Bear Pride Edition @ Alter Wartesaal, 2011, Cologne)
- HUNKUT (Steelgate, 2011, 2012, 2013, Brussels)
- FULL FETISH (Leather Pride @ Petrol Club & Hangar 29, 2012/2013, Antwerp)
- CAFE COX BAR (2012/2013,Paris)
- AFTER ROUGE (Théatre rouge, 2012, Paris)
- SCREAM (Resident - Scream Club, 2012/2013,Paris)
- AFTER WAKE UP (Resident - Théatre rouge, 2012/2013,Paris)
- SEX BEAT (Full Metal, 2012/2013, Paris)
- GREENKOMM (2013, Cologne)
SEXTRAVAGANCE (Nation Club, 2013, Bruxelles)
KITKAT (Addict Club, 2014, Paris)
XTREME! (Essigfabrik, 2014, Cologne Pride)
FLY (Bloody Louis, 2014, 2015, 2016, Bruxelles)
REVELATION (Bazaar, 2015, Bruxelles)
HIM + FLY (Noxx, 2015, Anvers)
RAVE LINE (Studio 210 , 2016, Paris)
Read More
Trippy Gonzales
www.trippygonzales.com
Trippy Gonzales est un fondu de son depuis son plus jeune âge.
Dès l'adolescence, il assiste à l'émergence d'une nouvelle culture très prometteuse, celle des musiques "électroniques" : des prémices, avec la New Wave et l'Acid House, jusqu'à cette forme d'aboutissement qu'est la Progressive, en passant par la Techno et toutes ses déclinaisons. Chacune de ces sensibilités affine son goût et l'amène à fréquenter ses premières soirées.
Mais pour Trippy, la musique est avant tout une question de rencontres et d'amitié.
Rencontre, évidente, avec celui qui partage sa vie comme la plupart de ses affinités musicales, Paris'Topher : c'est lui qui l'initie à la technique du mixe et confirme son goût pour le son tribal et progressif ; rencontre, bien-sûr, avec Nicolas Nucci, le maître du genre, qui lui donne sa chance à la soirée Météo (2008) comme il l'avait d'ailleurs fait pour Topher lors des légendaires soirées Progress! ; rencontre, encore, avec Raph', qui lui permet d'exprimer tout son talent à la soirée "European Beardrop" (2009).
Fort de ces références, Trippy a à cœur de construire ses sets comme de vrais voyages, parfois planants, parfois surprenants, mais toujours... trippants !
Que ce soit aux soirées Météo, Beardrop, ou encore à l'after Tomate, il met toute son énergie au service d'un clubbing pointu et inspiré : avec Trippy, les idées fusent, à l'instar du projet "T&T" (Topher&Trippy) qui ne fait que commencer...
Last single released on RESOLUTION RECORDINGS and all digital platforms (Itunes, beatport, Juno, Virgin...)
T&T (Paris'Topher & Trippy Gonzales)
"GHOST" (Original Mix & Tommy Marcus Mix) on RESOLUTION RECORDINGS and all digital platforms
(Itunes, Beatport, Juno, Virgin, Trackidown, Amazon, Traxsource, Deezer...)
Resolution presents the second official track of T&T (for Topher & Trippy) , a duo of DJs and house-music producers consisting of french members Paris'Topher and Trippy Gonzales.
"SHIVA " (Topher's Vocal Mix - Trippy's Dub - Tommy Marcus Remix)
on RESOLUTION RECORDINGS and all digital platforms
(Itunes, Beatport, Juno, Virgin, Trackidown, Amazon, Traxsource, Deezer...)
- METEO (Resident La Loco, 2008/2009, Paris)
- AFTER TOMATE (Plaza Madeleine, 2009, Paris)
- EUROPEAN BEARDROP (Scène Bastille, The Eagle & Divan du Monde, 2009/2010/2012, Paris)
- RED & BLUE (2010, Antwerp)
- MEZZO GIORNO (Stuurboord/Hangar 26 & Zaal Publik, 2010/2011, Antwerp)
- A HARD NIGHT (Petrol Club, 2011, Antwerp Pride)
- INTOX (Steelgate, 2011, Brussels)
- THE BOOTS (2011, Antwerp)
- SWITCH (4 éléments, 2011, Paris)
- COCK-PIT XL (Bear Pride Edition @ Alter Wartesaal, 2011, Cologne)
- HUNKUT (Steelgate, 2011, 2012, 2013, Brussels)
- FULL FETISH (Leather Pride @ Petrol Club & Hangar 29, 2012/2013, Antwerp)
- CAFE COX BAR (2012/2013,Paris)
- AFTER ROUGE (Théatre rouge, 2012, Paris)
- SCREAM (Resident - Scream Club, 2012/2013,Paris)
- AFTER WAKE UP (Resident - Théatre rouge, 2012/2013,Paris)
- SEX BEAT (Full Metal, 2012/2013, Paris)
- GREENKOMM (2013, Cologne)
SEXTRAVAGANCE (Nation Club, 2013, Bruxelles)
KITKAT (Addict Club, 2014, Paris)
XTREME! (Essigfabrik, 2014, Cologne Pride)
FLY (Bloody Louis, 2014, 2015, 2016, Bruxelles)
REVELATION (Bazaar, 2015, Bruxelles)
HIM + FLY (Noxx, 2015, Anvers)
RAVE LINE (Studio 210 , 2016, Paris)