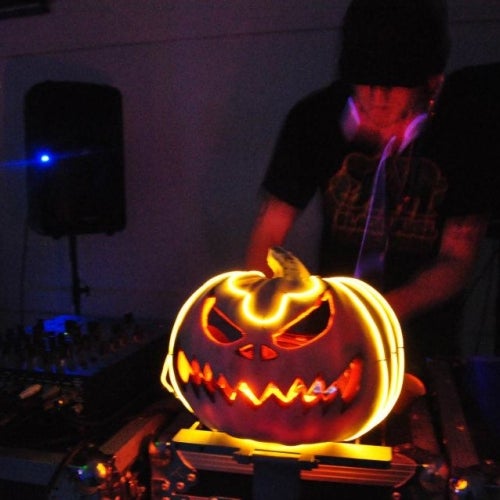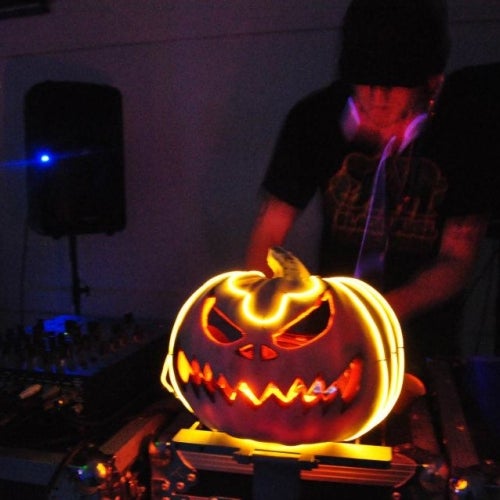 Full Frequency Experience/ SmallHallowsEve Music
http://www.fullfrequency.org

SUMMARY

Fun, established, recognizable, and professional Electronic Dance Musician and performance artist.
Engaging live production and on the fly remixing. Mike actively produces music alongside traditional disc jockeying.
Mike's unique style of production and mixing stem from a multi-intsrumentalist performance background.
Multi-genre artist: Mike's love and passion for all types of music has developed a keen appreciation for the right song/style at the right time.
Mike's remixes of Lana Del Rey, Janelle Monae, and other popular artists are rapidly ganing recognition from artists, labels, and producers across the globe.
The Sk4r3crow comes with a 8000 watt Mackie/JBL sound system and professional lighting rig. Along with sound and lighting, Mike can also provide licensed fire artists, LED performers and dancers.

BIO

Ranging from down tempo surreal trance to heavy dancefloor heat; The Sk4r3crow has become a major underground presence in the Oregon EDM scene. His remixes have been noted by Royal Bass Records (Britain UK), Cubic Records (Britain UK), IlluminatiDubstep (Fiji), MCT Music Group (US), Vacant Lot Entertainment (Los Angeles US), State Records (Manchester UK), Rimoshee Production (Slovakia), Fresh Artistes (Sheffield UK), Satellite Recordings (New York US), Slammin Vinyl (London UK), BGM Records (US), SmoothProductionz (Dallas US), and Modified Noise (Los Angeles US). The Sk4r3crow is also currently the #2 local artist on Reverbnation.

Mike was already established in underground music before donning a mask and becoming The Sk4r3crow. When he bought his first set of vinyl turntables he was playing drums and percussion for The State Of Jefferson. After an amicable parting of ways, he went on to play bass and production for the punk rock group Burning Britches. All the while he was honing his EDM skills as a side project. After the punk group decided to split up, Mike was able to work solely on all types of music production. In a world now dominated by computers, he opted for an "old school" approach to making music: utilizing synthesizers, samplers, and turntables. Being a multi-instumentalist, he was able to carve out his own unique styling whereas many producers simply buy beats and samples online. After a few years, his friends began pushing for him to start playing live.

And so, The Sk4r3crow was born! Since breaking onto the scene in 2011, The Sk4r3crow has played everything from small, intimate private sessions, to full on all-night EDM massives. His experience with electronic dance music combined with over 12 years of traditional group projects has given him a unique ability to "read" a crowd. This experience has also provided an excellent circumventual view of events. As a promoter with Full Frequency Experience, he's extremely knowledgeable of all things event related. With The Skr43crow, you get so much more than just another d.j.

Noteworthy Events:

2nd Annual Halloween Masquerade Ball. Medford, OR. Headliner time-slot: 11:45pm- 12:45am 10-30-11

Last New Year's Ever: Pallaillama Prod. Selma, OR. Headliner time-slot: 1:00-2:15am
12-31-11

Basslove: Nautilus Sound and Full Frequency Experience. Grants Pass, OR. Headliner time-slot: 1:00am-2:45am.

Cloud9 Collective presents: Waterworld. Selma, OR. Side-stage headliner time-slot 1:15am-2:30am.

Full Frequency Experience presents: Prom (The Speakeasy) Headliner time-slot: 1:45am- 2:45am

2012 Jefferson State Music Festival and Hemp Expo. Time-slot TBA.

A few of the artists The Sk4r3crow has shared stages with:

Luke Mandala - Activated Recordings - Eugene, OR
Anna Langley -Portland, OR
EFXHAND - Nautilus Sound - Ashland, OR
DJ3rdSTEP - SOS Crew, OR
C.Markle - SOS Crew, OR
KOZMO - Bassix Ent, Eugene, OR
GnarGnar - Bassix Ent, Eugene, OR
Damian - DecadanceDJ, San Francisco, CA
The State Of Jefferson - SO. OR
Organik Time Mahine - OR
One Movement - Ashland, OR
Dirty D - GBE, Nautilus, FFE. Ashland, OR
Skateboard Kid - SOS Crew, FFE, Ashland OR

Web contacts, music, booking, and pictures.

Facebook: https://www.facebook.com/mike.s.riddle
Twitter: @TheSk4r3crow https://twitter.com/#!/TheSk4r3crow
Beatport Djs: http://dj.beatport.com/sk4r3crow
Soundcloud: http://soundcloud.com/sk4r3crow
Reverbnation: http://www.reverbnation.com/thesk4r3crow
Mixcrate Mixes: http://www.mixcrate.com/TheSk4r3crow
Promotion: http://fullfrequency.org/Wordpress/

Contact and Booking:
Email: sk4r3crowonfire@gmail.com
Phone: 541-787-5690
Read More
The Sk4r3crow
Full Frequency Experience/ SmallHallowsEve Music
http://www.fullfrequency.org
SUMMARY
Fun, established, recognizable, and professional Electronic Dance Musician and performance artist.
Engaging live production and on the fly remixing. Mike actively produces music alongside traditional disc jockeying.
Mike's unique style of production and mixing stem from a multi-intsrumentalist performance background.
Multi-genre artist: Mike's love and passion for all types of music has developed a keen appreciation for the right song/style at the right time.
Mike's remixes of Lana Del Rey, Janelle Monae, and other popular artists are rapidly ganing recognition from artists, labels, and producers across the globe.
The Sk4r3crow comes with a 8000 watt Mackie/JBL sound system and professional lighting rig. Along with sound and lighting, Mike can also provide licensed fire artists, LED performers and dancers.
BIO
Ranging from down tempo surreal trance to heavy dancefloor heat; The Sk4r3crow has become a major underground presence in the Oregon EDM scene. His remixes have been noted by Royal Bass Records (Britain UK), Cubic Records (Britain UK), IlluminatiDubstep (Fiji), MCT Music Group (US), Vacant Lot Entertainment (Los Angeles US), State Records (Manchester UK), Rimoshee Production (Slovakia), Fresh Artistes (Sheffield UK), Satellite Recordings (New York US), Slammin Vinyl (London UK), BGM Records (US), SmoothProductionz (Dallas US), and Modified Noise (Los Angeles US). The Sk4r3crow is also currently the #2 local artist on Reverbnation.
Mike was already established in underground music before donning a mask and becoming The Sk4r3crow. When he bought his first set of vinyl turntables he was playing drums and percussion for The State Of Jefferson. After an amicable parting of ways, he went on to play bass and production for the punk rock group Burning Britches. All the while he was honing his EDM skills as a side project. After the punk group decided to split up, Mike was able to work solely on all types of music production. In a world now dominated by computers, he opted for an "old school" approach to making music: utilizing synthesizers, samplers, and turntables. Being a multi-instumentalist, he was able to carve out his own unique styling whereas many producers simply buy beats and samples online. After a few years, his friends began pushing for him to start playing live.
And so, The Sk4r3crow was born! Since breaking onto the scene in 2011, The Sk4r3crow has played everything from small, intimate private sessions, to full on all-night EDM massives. His experience with electronic dance music combined with over 12 years of traditional group projects has given him a unique ability to "read" a crowd. This experience has also provided an excellent circumventual view of events. As a promoter with Full Frequency Experience, he's extremely knowledgeable of all things event related. With The Skr43crow, you get so much more than just another d.j.
Noteworthy Events:
2nd Annual Halloween Masquerade Ball. Medford, OR. Headliner time-slot: 11:45pm- 12:45am 10-30-11
Last New Year's Ever: Pallaillama Prod. Selma, OR. Headliner time-slot: 1:00-2:15am
12-31-11
Basslove: Nautilus Sound and Full Frequency Experience. Grants Pass, OR. Headliner time-slot: 1:00am-2:45am.
Cloud9 Collective presents: Waterworld. Selma, OR. Side-stage headliner time-slot 1:15am-2:30am.
Full Frequency Experience presents: Prom (The Speakeasy) Headliner time-slot: 1:45am- 2:45am
2012 Jefferson State Music Festival and Hemp Expo. Time-slot TBA.
A few of the artists The Sk4r3crow has shared stages with:
Luke Mandala - Activated Recordings - Eugene, OR
Anna Langley -Portland, OR
EFXHAND - Nautilus Sound - Ashland, OR
DJ3rdSTEP - SOS Crew, OR
C.Markle - SOS Crew, OR
KOZMO - Bassix Ent, Eugene, OR
GnarGnar - Bassix Ent, Eugene, OR
Damian - DecadanceDJ, San Francisco, CA
The State Of Jefferson - SO. OR
Organik Time Mahine - OR
One Movement - Ashland, OR
Dirty D - GBE, Nautilus, FFE. Ashland, OR
Skateboard Kid - SOS Crew, FFE, Ashland OR
Web contacts, music, booking, and pictures.
Facebook:
https://www.facebook.com/mike.s.riddle
Twitter: @TheSk4r3crow
https://twitter.com/#!/TheSk4r3crow
Beatport Djs:
http://dj.beatport.com/sk4r3crow
Soundcloud:
http://soundcloud.com/sk4r3crow
Reverbnation:
http://www.reverbnation.com/thesk4r3crow
Mixcrate Mixes:
http://www.mixcrate.com/TheSk4r3crow
Promotion:
http://fullfrequency.org/Wordpress/
Contact and Booking:
Email:
sk4r3crowonfire@gmail.com
Phone: 541-787-5690