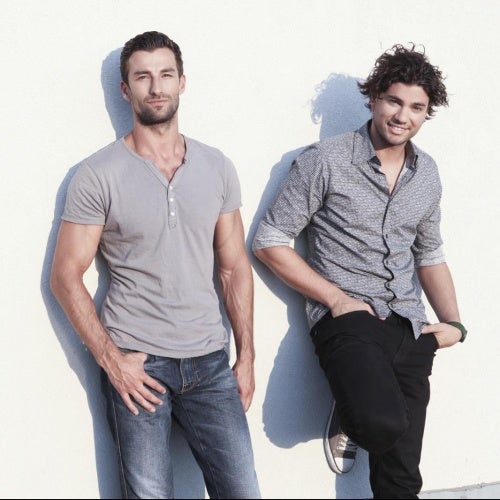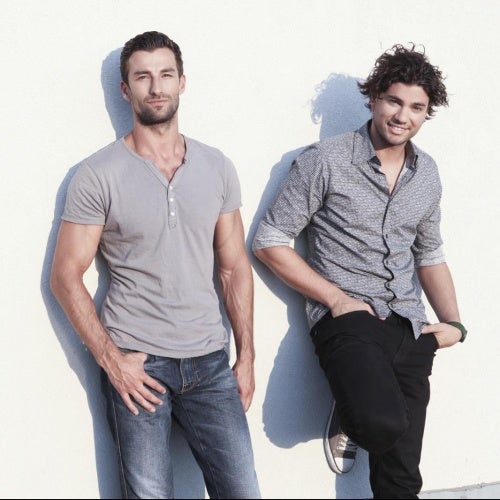 If someone ever tells you to "stop dreaming in Technicolor" then make sure to turn up the volume on the Rich & Kiss podcast and tune them out.

Having grown dangerously tired of guidelines and alarm clocks, Rich & Kiss put their entire careers and linear life models on pause to re-focus on one thing: the play button.

Music is their passion. Mixing their game. Entertaining their objective. At the age of fifteen these guys were already spinning classic dance – that's right peeps, they were "Mr. Vain" and "Too sexy." Thank the powers above that at 27 and 31, respectively; Rich & Kiss have come a very long way.

Born directly across from each other in suburbia Montreal, Rich & Kiss have spent year's abroad but never lost contact. Rich spent much of his time living and spinning across Naples, Italy. Meanwhile, Mr. Kiss was cruising his families' hometown in Budapest, central Hungary, where he mastered his talent for mixing and his taste for minimal & electronic music.

Together again in hometown Montreal, they have re-joined forces to combat the vicious monotony of routine. And by god they are anything but monotonous: "Rich is rebellious and I'm all jokes. It works out." says Oliver Kiss of Rich & Kiss.

Their iTunes podcast, "Rich & Kiss: House de Musique" boasts exactly that. Emphatic tingles with heavy loops that send upbeat vibes coursing through you. Their sound is mature. They've developed a sophisticated twist to the underground scene with a characteristic mélange of minimal, progressive and a sprinkle of tribal house. One juicy beat after another, these guys are dripping with raw passion. It's what would happen if Richie Hawtin, Carl Cox and Donato Dozzy could be morphed into one super human (who knows what the God Particle might do).

After all, this is the stuff that dreams are made of.

"If people didn't dream in Technicolor then imagine how black & white it would all be. No thanks." Riccardo Ricciardi of Rich & Kiss.

iTunes podcast: http://itunes.apple.com/ca/podcast/rich-kiss-house-musique-podcast/id491951710

MixCloud: http://www.mixcloud.com/rich_and_kiss

SoundCloud: http://www.soundcloud.com/richandkiss
Read More
Rich & Kiss
If someone ever tells you to "stop dreaming in Technicolor" then make sure to turn up the volume on the Rich & Kiss podcast and tune them out.
Having grown dangerously tired of guidelines and alarm clocks, Rich & Kiss put their entire careers and linear life models on pause to re-focus on one thing: the play button.
Music is their passion. Mixing their game. Entertaining their objective. At the age of fifteen these guys were already spinning classic dance – that's right peeps, they were "Mr. Vain" and "Too sexy." Thank the powers above that at 27 and 31, respectively; Rich & Kiss have come a very long way.
Born directly across from each other in suburbia Montreal, Rich & Kiss have spent year's abroad but never lost contact. Rich spent much of his time living and spinning across Naples, Italy. Meanwhile, Mr. Kiss was cruising his families' hometown in Budapest, central Hungary, where he mastered his talent for mixing and his taste for minimal & electronic music.
Together again in hometown Montreal, they have re-joined forces to combat the vicious monotony of routine. And by god they are anything but monotonous: "Rich is rebellious and I'm all jokes. It works out." says Oliver Kiss of Rich & Kiss.
Their iTunes podcast, "Rich & Kiss: House de Musique" boasts exactly that. Emphatic tingles with heavy loops that send upbeat vibes coursing through you. Their sound is mature. They've developed a sophisticated twist to the underground scene with a characteristic mélange of minimal, progressive and a sprinkle of tribal house. One juicy beat after another, these guys are dripping with raw passion. It's what would happen if Richie Hawtin, Carl Cox and Donato Dozzy could be morphed into one super human (who knows what the God Particle might do).
After all, this is the stuff that dreams are made of.
"If people didn't dream in Technicolor then imagine how black & white it would all be. No thanks." Riccardo Ricciardi of Rich & Kiss.
iTunes podcast:
http://itunes.apple.com/ca/podcast/rich-kiss-house-musique-podcast/id491951710
MixCloud:
http://www.mixcloud.com/rich_and_kiss
SoundCloud:
http://www.soundcloud.com/richandkiss