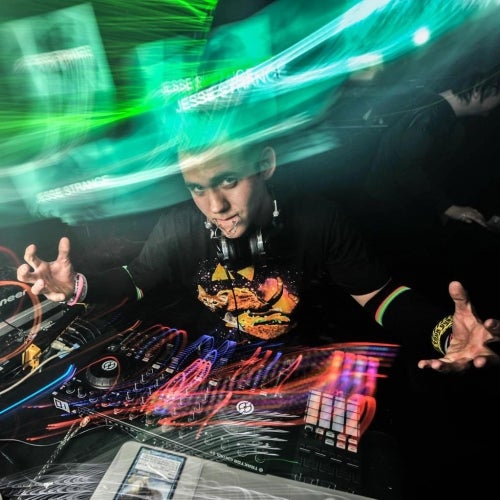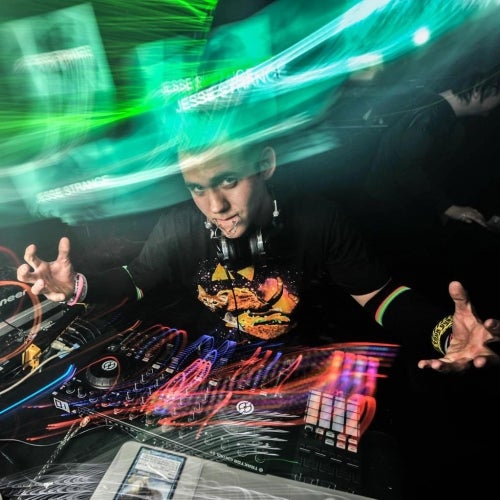 Jesse Strange is not your ordinary DJ. He is a melodic masterpiece of all things mystifying. He is disrupting the wavelengths in the US in his home state of Oklahoma and has everybody looking to the booth for the masterful sound created when he plays. This young DJ has captured the attention of clubs all over the state such as Citywalk and Club Albee in OKC and Red Ultra and growing after hours venue The G Spot in the Tulsa area. He is also one of the co creators of the up and coming Bonfires and Bass music festival that takes place in oklahoma.

Jesse Strange has a wide variety of music ranging from electro to hip hop. this DJ doesn't play music he plays the crowd. He reads the crowd and bases his song choice on them. the energy put into his mixing is phenomenal and is unparalleled by none other. Personal preference is electro, house, and the latest dubstep. However this versatile young mind is not afraid to go outside of his comfort zone and make thing stranger than they already are to please the crowd. He loves what he does and make no mistake, he thrives on the crowd. This conquering young mind is astounding and relentless with every track making precise mixes with the utmost accuracy. He always ensures proper key, phrase, and most of all bassline match accordingly in order to truly shock the crowd. His style has an arsenal of unmistakable effects that are all used in ways never imagined upon creation. The performance delivered is nothing short of phenomenal and the patrons of his events are never disappointed.

Hyper and energetic Strange wastes no time and holds nothing back. While playing, he tries to push a genre defying set as to not conform to any certain style.
While maintaining a Godlike energy through the speakers, the up and coming Strange will be easily recognized in the modern dance scene.

WEBSITES:
http://dj.beatport.com/jessestrange
http://soundcloud.com/djjessestrange
http://www.mixcloud.com/DJSTR4NG3/
https://twitter.com/DJSTR4NG3
http://www.reverbnation.com/jessestrange
http://www.mixify.com/jessestrange

CONTACT: cell: 405-481-5645
email: iamdjstr4ng3@gmail.com
http://www.facebook.com/DJSTR4NG3
Read More
Jesse Strange
Jesse Strange is not your ordinary DJ. He is a melodic masterpiece of all things mystifying. He is disrupting the wavelengths in the US in his home state of Oklahoma and has everybody looking to the booth for the masterful sound created when he plays. This young DJ has captured the attention of clubs all over the state such as Citywalk and Club Albee in OKC and Red Ultra and growing after hours venue The G Spot in the Tulsa area. He is also one of the co creators of the up and coming Bonfires and Bass music festival that takes place in oklahoma.
Jesse Strange has a wide variety of music ranging from electro to hip hop. this DJ doesn't play music he plays the crowd. He reads the crowd and bases his song choice on them. the energy put into his mixing is phenomenal and is unparalleled by none other. Personal preference is electro, house, and the latest dubstep. However this versatile young mind is not afraid to go outside of his comfort zone and make thing stranger than they already are to please the crowd. He loves what he does and make no mistake, he thrives on the crowd. This conquering young mind is astounding and relentless with every track making precise mixes with the utmost accuracy. He always ensures proper key, phrase, and most of all bassline match accordingly in order to truly shock the crowd. His style has an arsenal of unmistakable effects that are all used in ways never imagined upon creation. The performance delivered is nothing short of phenomenal and the patrons of his events are never disappointed.
Hyper and energetic Strange wastes no time and holds nothing back. While playing, he tries to push a genre defying set as to not conform to any certain style.
While maintaining a Godlike energy through the speakers, the up and coming Strange will be easily recognized in the modern dance scene.
WEBSITES:
http://dj.beatport.com/jessestrange
http://soundcloud.com/djjessestrange
http://www.mixcloud.com/DJSTR4NG3/
https://twitter.com/DJSTR4NG3
http://www.reverbnation.com/jessestrange
http://www.mixify.com/jessestrange
CONTACT: cell: 405-481-5645
email:
iamdjstr4ng3@gmail.com
http://www.facebook.com/DJSTR4NG3