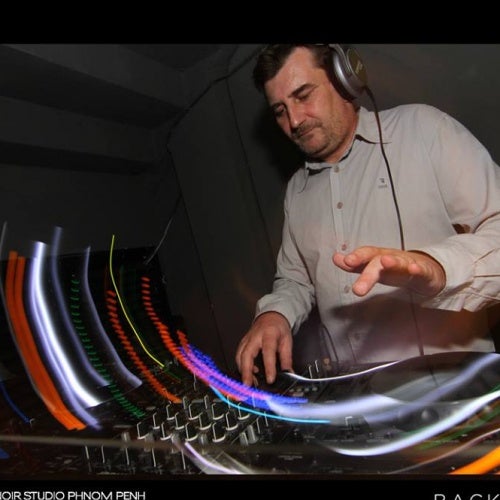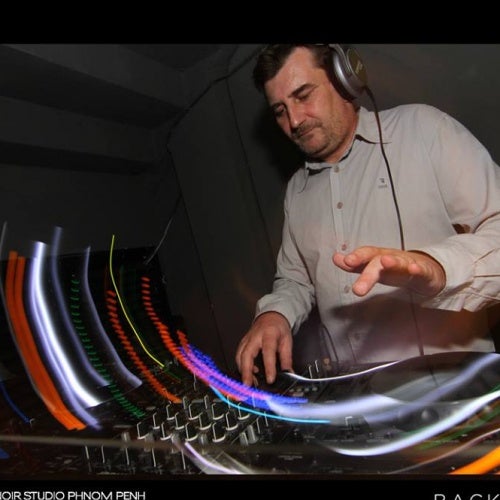 Funkelastiks is a true Chicago house music globetrotter and originates from Ghent, Belgium (EU), one of the hippest and most creative cities of music on this planet.
He made his debut as a dj in 1986, mixing funk jazz and pop rock records in Ghent's legendary "Coconut Club". Bands like Queen, Madness, Straycats, Grand Master Flash, and The Police ruled the radio frequencies and clubs owned proper record collections, not deejays. New genres like Acid-house and New-beat became huge and megadancings like the "Boccaccio" in the outskirts of Ghent attracted thousands of international crowds for this new style of electronic music. Funkelastiks is part of the first generation of Belgian electronic artists and evidentially shared the turntables with fellow Ghent pals 2Manydj's Dewaele Brothers and the Glimmer Twins.
In the early nineties, he moved to Ibiza to perform at after-parties during the summer of 1993 and also had several dj stints in the Caribbean in 1994. Funkelastiks would only become synonym to the Chicago house music genre in 2005, when he watched a certain Mr. Derrick Carter perform at a gig in the U.K. That epic night influenced him so much; he decided to be a true protagonist of underground quality house music.
Since 2008, Funkelastiks promotes house music in south-east Asia and chose the mighty country of Cambodia as a perfect base for new collaborations with local and international artists. In 2011, Funkelastiks went on to master his "Jacking' house" sound in Europe and was privileged to grasp excellent production techniques in the studios of the illustrious "Jr From Dallas" (Gourmand Music) and "Bart Ricardo" (Farris Wheel Recordings), which he gladly calls his "mentors".
This collaboration resulted in a first release called "Happy Hippie" on house label "Groovetraxx". 2012 was a significant year for Funkelastiks with a further 3 ep's released on the US imprint "Deep Hype Sounds", including the acclaimed "Funky Head" ep. He also confirmed his talents as an excellent remix artist for Juiced Music for Rob Wu, Reece Johnson.Funk Mediteraneo..
A night with Funkelastiks would best be described as a rollercoaster of house music. His strength is his adaptability towards any generation of house music lovers. Pool, beach club, classy restaurant, festival, hyperlounge or dark club, no one and no venue will resist the quality house music of Funkelastiks. He often loves to be accompanied by a live saxophonist to give the public the required extra spice and his music is a happy cocktail of disco, lounge, tech house, soul, deep house, jackin house added with the original trademark Funkelastiks sauce!
promo's : axeldetimmerman@gmail.com
http://www.beatport.com/artist/funkelastiks/234915
Read More
FUNKELASTIKS
Funkelastiks is a true Chicago house music globetrotter and originates from Ghent, Belgium (EU), one of the hippest and most creative cities of music on this planet.
He made his debut as a dj in 1986, mixing funk jazz and pop rock records in Ghent's legendary "Coconut Club". Bands like Queen, Madness, Straycats, Grand Master Flash, and The Police ruled the radio frequencies and clubs owned proper record collections, not deejays. New genres like Acid-house and New-beat became huge and megadancings like the "Boccaccio" in the outskirts of Ghent attracted thousands of international crowds for this new style of electronic music. Funkelastiks is part of the first generation of Belgian electronic artists and evidentially shared the turntables with fellow Ghent pals 2Manydj's Dewaele Brothers and the Glimmer Twins.
In the early nineties, he moved to Ibiza to perform at after-parties during the summer of 1993 and also had several dj stints in the Caribbean in 1994. Funkelastiks would only become synonym to the Chicago house music genre in 2005, when he watched a certain Mr. Derrick Carter perform at a gig in the U.K. That epic night influenced him so much; he decided to be a true protagonist of underground quality house music.
Since 2008, Funkelastiks promotes house music in south-east Asia and chose the mighty country of Cambodia as a perfect base for new collaborations with local and international artists. In 2011, Funkelastiks went on to master his "Jacking' house" sound in Europe and was privileged to grasp excellent production techniques in the studios of the illustrious "Jr From Dallas" (Gourmand Music) and "Bart Ricardo" (Farris Wheel Recordings), which he gladly calls his "mentors".
This collaboration resulted in a first release called "Happy Hippie" on house label "Groovetraxx". 2012 was a significant year for Funkelastiks with a further 3 ep's released on the US imprint "Deep Hype Sounds", including the acclaimed "Funky Head" ep. He also confirmed his talents as an excellent remix artist for Juiced Music for Rob Wu, Reece Johnson.Funk Mediteraneo..
A night with Funkelastiks would best be described as a rollercoaster of house music. His strength is his adaptability towards any generation of house music lovers. Pool, beach club, classy restaurant, festival, hyperlounge or dark club, no one and no venue will resist the quality house music of Funkelastiks. He often loves to be accompanied by a live saxophonist to give the public the required extra spice and his music is a happy cocktail of disco, lounge, tech house, soul, deep house, jackin house added with the original trademark Funkelastiks sauce!
promo's :
axeldetimmerman@gmail.com
http://www.beatport.com/artist/funkelastiks/234915