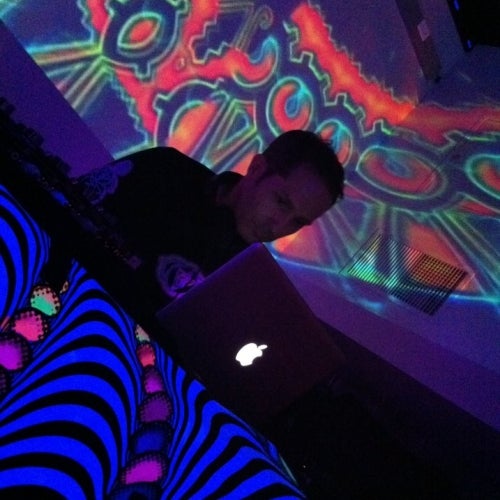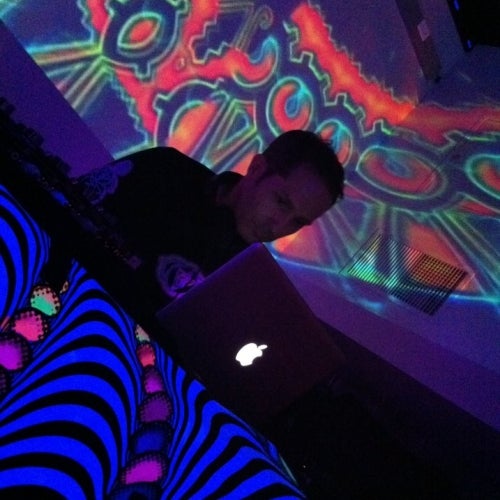 DJ Solitare is Mark Ainley, a psychedelic trance DJ classically trained as a pianist who has been active in the world of psychedelic trance and electronica since he first encountered the art form when he was living in Tokyo in 1994. Inspired by the now-legendary Odyssey and Equinox events, and particularly by two events where Olli (Space Tribe) DJ'd all night, Mark moved to London in 1996 to become more involved with the scene.

Mark's regular contributions to Dream Creation magazine, including interviews with Cydonia and Quirk, won the appreciation of several of trance's top artists for his clearly articulated perspectives on the state of psychedelic trance music and for his reviews of international events. Some of his unofficial DJ training took place by being in the DJ booth watching Tsuyoshi mix at the monthly Return To The Source parties and by performing at the Daniel Poole shop in Soho.

Although approached by both Twisted and Matsuri to help at their offices (he still writes press releases for Twisted), Mark moved back to Tokyo in early 1998 after a quick visit to Vancouver, where a short set behind the Art Gallery on a Sunday afternoon introduced a number of local clubbers to psychedelic trance. In Tokyo Mark became a resident DJ at three regular parties and developed an underground following as DJ Solitare, eventually moving to Vancouver late in 1999.

As DJ Solitare, Mark has played in London, Zurich, Bangkok, Tokyo, Playa del Carmen, Montreal, Calgary, Victoria, and Vancouver, sharing the stage with a variety of international artists, including X-Dream, Stefan Holweck (Total Eclipse/Digital Mystery Tour), Space Tribe, Gabriel LeMar (Montauk P/Saafi Brothers), Jez (Laughing Buddha), Nick Taylor (Snake Thing), Domino (United Beats), Masa (Space Gathering), Chrisbo (Medicine Drum), Treavor (Moon Tribe), and Psyquest (Mad Stof).

Mark has produced award-winning compilation CDs and written liner notes for various international classical labels as well as feature articles for International Piano and Classic Record Collector magazines, evidence of a broad background with classical music that supports his programming of electronic music. Mark blends a wide harmonic, melodic and structural range of music to maximize his sets' impact and message, pitch-matching in alignment with classical theory to add an extra sense of balance. His years of training in complementary healing modalities further help him to bring a grounded presence to his delivery of the music.

While always interested in the latest and best music, Mark understands the roots and evolution of psychedelic trance and therefore balances his sets by including the best older tracks into his programming, among them obscure favourites and unreleased alternate mixes from his extensive DAT collection, hence his being made a label DJ for the Italian label DAT Records. Mark can play either entirely new or 'retro' sets with a unique twist, preferring longer sets (3 or 4 hours) to allow for the greatest possible integration of different musical languages and keys into a meaningful story with a palpable identity.

https://www.facebook.com/DJSolitare23
http://soundcloud.com/djsolitare
http://www.datrecords.it/dat/label-dj/label-dj.html

Read More
DJ Solitare
DJ Solitare is Mark Ainley, a psychedelic trance DJ classically trained as a pianist who has been active in the world of psychedelic trance and electronica since he first encountered the art form when he was living in Tokyo in 1994. Inspired by the now-legendary Odyssey and Equinox events, and particularly by two events where Olli (Space Tribe) DJ'd all night, Mark moved to London in 1996 to become more involved with the scene.
Mark's regular contributions to Dream Creation magazine, including interviews with Cydonia and Quirk, won the appreciation of several of trance's top artists for his clearly articulated perspectives on the state of psychedelic trance music and for his reviews of international events. Some of his unofficial DJ training took place by being in the DJ booth watching Tsuyoshi mix at the monthly Return To The Source parties and by performing at the Daniel Poole shop in Soho.
Although approached by both Twisted and Matsuri to help at their offices (he still writes press releases for Twisted), Mark moved back to Tokyo in early 1998 after a quick visit to Vancouver, where a short set behind the Art Gallery on a Sunday afternoon introduced a number of local clubbers to psychedelic trance. In Tokyo Mark became a resident DJ at three regular parties and developed an underground following as DJ Solitare, eventually moving to Vancouver late in 1999.
As DJ Solitare, Mark has played in London, Zurich, Bangkok, Tokyo, Playa del Carmen, Montreal, Calgary, Victoria, and Vancouver, sharing the stage with a variety of international artists, including X-Dream, Stefan Holweck (Total Eclipse/Digital Mystery Tour), Space Tribe, Gabriel LeMar (Montauk P/Saafi Brothers), Jez (Laughing Buddha), Nick Taylor (Snake Thing), Domino (United Beats), Masa (Space Gathering), Chrisbo (Medicine Drum), Treavor (Moon Tribe), and Psyquest (Mad Stof).
Mark has produced award-winning compilation CDs and written liner notes for various international classical labels as well as feature articles for International Piano and Classic Record Collector magazines, evidence of a broad background with classical music that supports his programming of electronic music. Mark blends a wide harmonic, melodic and structural range of music to maximize his sets' impact and message, pitch-matching in alignment with classical theory to add an extra sense of balance. His years of training in complementary healing modalities further help him to bring a grounded presence to his delivery of the music.
While always interested in the latest and best music, Mark understands the roots and evolution of psychedelic trance and therefore balances his sets by including the best older tracks into his programming, among them obscure favourites and unreleased alternate mixes from his extensive DAT collection, hence his being made a label DJ for the Italian label DAT Records. Mark can play either entirely new or 'retro' sets with a unique twist, preferring longer sets (3 or 4 hours) to allow for the greatest possible integration of different musical languages and keys into a meaningful story with a palpable identity.
https://www.facebook.com/DJSolitare23
http://soundcloud.com/djsolitare
http://www.datrecords.it/dat/label-dj/label-dj.html