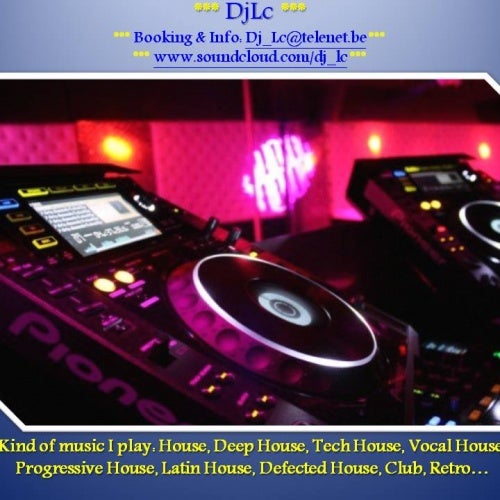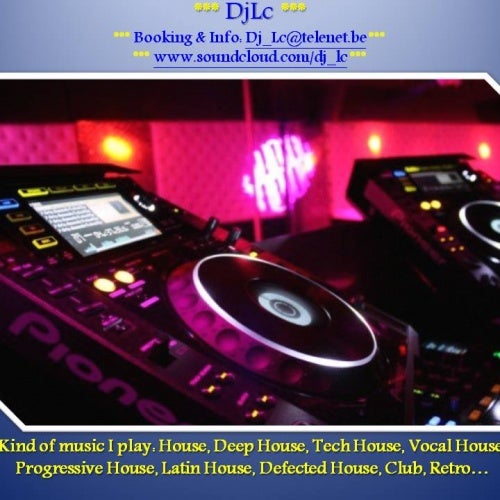 Luc, aka DjLc werd geboren te Gent. Muziek werd hem reeds met de paplepel ingegeven, daar z'n ouders een héél druk bezocht café hadden in z'n tienerjaren…
Met z'n spaarcentjes kocht hij hem z'n eerste cd's. Sindsdien is zijn liefde voor muziek alléén maar gegroeid. Door studies en zijn beroepscarrière kon hij niet doen wat hij altijd wou doen, namelijk Dj worden.
Van 1995 tot 2002 begon hij in de weekends als garçon te werken in een dancing rond het Gentse… Daar kwam de microbe héél vlug weer naar boven… Namen als Dj Phi-Phi (Extreme), Marko de La Rocca (La Rocca), Pascal (Cuba Libre & Kokoriko), Mario (Zillion & Red & Blue), K&B on the MIC (Topradio), Michaël Forzza (Pulse Factory), Vince (Kokoriko & The Factory), Cosmo (Extreme & Carat)… kwamen daar hun 'gig' doen in het weekend! Door véél te stelen met z'n ogen, uitleg te vragen aan deze ervaren Dj's en een eigen Dj-installatie aan te schaffen na enkele jaren, kon het leren beginnen. He is a selfmade men & laatbloeier dus…
Uren, uren en nog eens uren achter de installatie werden dagen & nachten om 'het Dj'en' onder de knie te krijgen. Er werd gevloekt, tranen werden gelaten, koptelefoons vlogen door het huis… Maar vastberaden deed hij door tot hij 'het spelletje' onder de knie had! Na meer dan anderhalf jaar oefenen ging hij al eens spelen op een kampioenenbal van een voetbal vereniging... Nu, een 5-tal jaar later en passages langs 'Privé clubs' te Wetteren, Lokeren, Ronse, Hamme, Roeselare..., deed hij ook al Dj-gigs te Brussel, Upstairs - Roeselare, Bolero - Roeselare, Kinky Star Club - Gent,1 year Slave 2 the rhythm - Izegem (Music For Life), 't Kruiske - Kruishoutem, Invaders Festival - Olsene, Mixtapecollaborations Party - Pepingen, NYE 'Le Grilloir' - Brugge, Cocktailbar 'Cocktails & Dreams - Izegem, Lounge B52 - Mechelen, Ockxfest (2013) - Antwerpen, Your Store - Antwerpen, Surf & Skate & Snow AwakeFest 2013 - Blankenberge, Latoya LoungeBar - Loppem, privéfeestjes... enz enz....


Passie is een verslaving geworden!!!

*** Music is life, life is music ***

Greetz & Beatz

DjLc

Bookings & Info: Dj_Lc@telenet.be

Read More
DjLc
Luc, aka DjLc werd geboren te Gent. Muziek werd hem reeds met de paplepel ingegeven, daar z'n ouders een héél druk bezocht café hadden in z'n tienerjaren…
Met z'n spaarcentjes kocht hij hem z'n eerste cd's. Sindsdien is zijn liefde voor muziek alléén maar gegroeid. Door studies en zijn beroepscarrière kon hij niet doen wat hij altijd wou doen, namelijk Dj worden.
Van 1995 tot 2002 begon hij in de weekends als garçon te werken in een dancing rond het Gentse… Daar kwam de microbe héél vlug weer naar boven… Namen als Dj Phi-Phi (Extreme), Marko de La Rocca (La Rocca), Pascal (Cuba Libre & Kokoriko), Mario (Zillion & Red & Blue), K&B on the MIC (Topradio), Michaël Forzza (Pulse Factory), Vince (Kokoriko & The Factory), Cosmo (Extreme & Carat)… kwamen daar hun 'gig' doen in het weekend! Door véél te stelen met z'n ogen, uitleg te vragen aan deze ervaren Dj's en een eigen Dj-installatie aan te schaffen na enkele jaren, kon het leren beginnen. He is a selfmade men & laatbloeier dus…
Uren, uren en nog eens uren achter de installatie werden dagen & nachten om 'het Dj'en' onder de knie te krijgen. Er werd gevloekt, tranen werden gelaten, koptelefoons vlogen door het huis… Maar vastberaden deed hij door tot hij 'het spelletje' onder de knie had! Na meer dan anderhalf jaar oefenen ging hij al eens spelen op een kampioenenbal van een voetbal vereniging... Nu, een 5-tal jaar later en passages langs 'Privé clubs' te Wetteren, Lokeren, Ronse, Hamme, Roeselare..., deed hij ook al Dj-gigs te Brussel, Upstairs - Roeselare, Bolero - Roeselare, Kinky Star Club - Gent,1 year Slave 2 the rhythm - Izegem (Music For Life), 't Kruiske - Kruishoutem, Invaders Festival - Olsene, Mixtapecollaborations Party - Pepingen, NYE 'Le Grilloir' - Brugge, Cocktailbar 'Cocktails & Dreams - Izegem, Lounge B52 - Mechelen, Ockxfest (2013) - Antwerpen, Your Store - Antwerpen, Surf & Skate & Snow AwakeFest 2013 - Blankenberge, Latoya LoungeBar - Loppem, privéfeestjes... enz enz....
Passie is een verslaving geworden!!!
*** Music is life, life is music ***
Greetz & Beatz
DjLc
Bookings & Info:
Dj_Lc@telenet.be