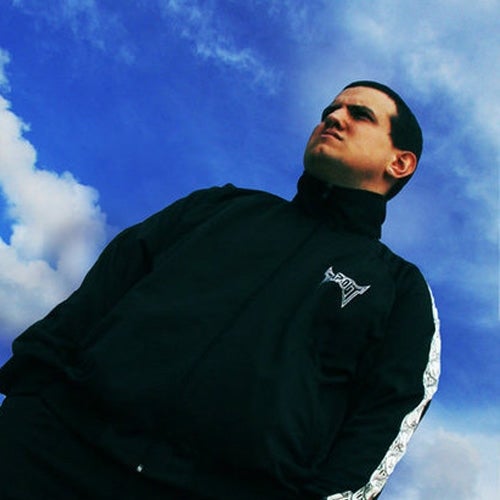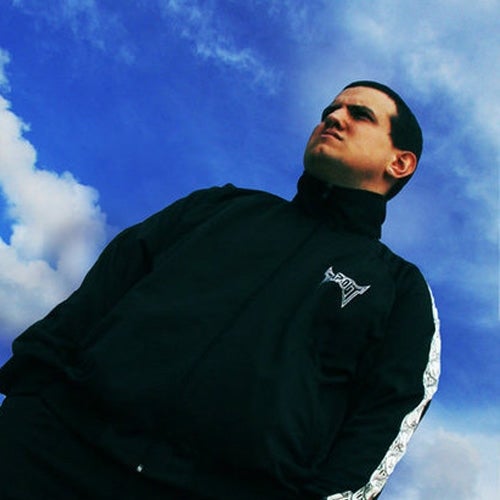 Nacido en 1985 en Zaragoza. Desde muy joven y gracias a sus padres pudo escuchar una gran variedad de música, desde Metallica a Iron Maiden, Sex Pistols o Judas Priest entre otros.

Su pasión por la música electrónica empezó con tan solo 11 años cuando le regalaron el videojuego "Wipeout" en el cual habia temas de grupos como Chemical Brothers, Leftfield o Future Sound Of London. Con 14 años se involucra en el mundo de la música electrónica adquiriendo un equipo básico de Dj y realizando sus primeros temas con software como Rebirht o Acid.

En ese mismo año realiza sus primeras sesiones ante publico las cuales demuestran el futuro de este artista. Después de pasar por varios clubs de su ciudad y de otras y adquirir la experiencia necesaria, ingresa en el colectivo Ebrains en Diciembre de 2004, junto a los djs Carlos Flavio, Sergio Velez y Alvaro Pons con el cual formaría "Anti-Christ-Super-Schranz" en el año 2006 dedicándose a realizar sesiones por gran cantidad de clubs y eventos.

Desde el año 2003 hasta su cese fue colaborador del portal Online Offtechno.com así como del magazine SKTM.org y Butronikland.com

A finales de 2006 entra a formar parte del booking de MULE PRODUCCIONES junto a su compañero y amigo Alvaro Pons.

Sus sesiones pueden ir desde Hard-techno de productores como Hardcell, Glenn Wilson, Mark Broom, Oscar Mulero hasta la dureza del sonido Schranz de productores como Dj Amok, Sven Wittekind, OBI o Leo Laker.

Paralelamente realiza sesiones de Drum and bass / Jungle bajo el seudónimo AKROG con el cual esta ligado al proyecto "junglist" Fokin Massive. Sus sesiones en este estilo estan influenciadas por los sonidos de: Dylan, Panacea, Limewax, Noisia, SPOR, Black Sun Empire, Dj Hype, Pendulum, Dj Fresh, Future Prophecies...

En Abril de 2008 junto con Alvaro Pons y bajo el Pseudonimo ACSS han publicado su tema "Cum with Ass" en el netlabel español THENEWHARDTECHNO.COM junto con artistas como Zheta, Hardthor, Kahnnon vs Shaka.

Como dj ha pasado por gran cantidad de salas y eventos como:

///ZARAGOZA:
Bar Brazil, Kode Klub, Seven, LimitClub, Zona Limite, Psycodelic Underground, Pub Bisonte, Bar Barroko, Pitch Club, Reset Club, Roscon Rock 2008 / 2009 / 2010, San Jorge 2008, Bass Space, Sala Ibiza, Edison Estudio, Pilarave 2004, 2006 y 2007, Reclaim the beats, reclaim the streets 2008, Genkore, Asociación Cultural el Buscon, La Gallina, Arena Rock, Maripo Summer 2009
Limbo Avantgarde, Oasis Club, Sala Ultimatum, Sugart, CSO La vieja Escuela, Monkey Business,
Global Music @ Las Playas, Muffin Club, Peluqueria Kaotika, Sala Capitol, SuperClub, El Barrio,

///HUESCA:
Flow Microclub (Huesca), Disco Vertigo (Fiscal), Solar 2006 (Boltaña), Hazard Desert Festival (Fraga), Florida 135 (Fraga), Mountainbass 2009 / 2010 / 2011 (Fiscal), Discoteca Petronila (Benasque)

///MADRID:
The Hole, Pub Avalon (Aranjuez), Specka, Madrid Electronic Conference Festival, 13Kalles (Aranjuez), Krudel, Fabrik, Twist (Sala Wind - Sala Pirandelo - Sala Heineken), Sala Trilogy (Bohadilla del monte).

///CATALUÑA
ClubZoreks (Alcarrás - Lleida), Sala Campus (Badalona - Barcelona), Sala Seattle (Balaguer - Lleida), Day Of The Droids 14 @ Sala Estraperlo (Badalona), Sala KGB (Barcelona)

///ANDALUCIA
Club NYA (Sevilla)

///MURCIA
Sala Rojas - After SOS 4.8 2011

///MALLORCA
Casino Royale (Palma)

///GALICIA
Galician Hell (Monterroso - Lugo)

///CASTILLA Y LA MANCHA
Trauma (Toledo)

///VALENCIA
Dirty Speakers @ Shimoda

///USA
Company Bar (NYC)

///UK
Bangface TV @ Bangface Weekender 2010
Read More
Akrog
Nacido en 1985 en Zaragoza. Desde muy joven y gracias a sus padres pudo escuchar una gran variedad de música, desde Metallica a Iron Maiden, Sex Pistols o Judas Priest entre otros.
Su pasión por la música electrónica empezó con tan solo 11 años cuando le regalaron el videojuego "Wipeout" en el cual habia temas de grupos como Chemical Brothers, Leftfield o Future Sound Of London. Con 14 años se involucra en el mundo de la música electrónica adquiriendo un equipo básico de Dj y realizando sus primeros temas con software como Rebirht o Acid.
En ese mismo año realiza sus primeras sesiones ante publico las cuales demuestran el futuro de este artista. Después de pasar por varios clubs de su ciudad y de otras y adquirir la experiencia necesaria, ingresa en el colectivo Ebrains en Diciembre de 2004, junto a los djs Carlos Flavio, Sergio Velez y Alvaro Pons con el cual formaría "Anti-Christ-Super-Schranz" en el año 2006 dedicándose a realizar sesiones por gran cantidad de clubs y eventos.
Desde el año 2003 hasta su cese fue colaborador del portal Online
Offtechno.com
así como del magazine
SKTM.org
y
Butronikland.com
A finales de 2006 entra a formar parte del booking de MULE PRODUCCIONES junto a su compañero y amigo Alvaro Pons.
Sus sesiones pueden ir desde Hard-techno de productores como Hardcell, Glenn Wilson, Mark Broom, Oscar Mulero hasta la dureza del sonido Schranz de productores como Dj Amok, Sven Wittekind, OBI o Leo Laker.
Paralelamente realiza sesiones de Drum and bass / Jungle bajo el seudónimo AKROG con el cual esta ligado al proyecto "junglist" Fokin Massive. Sus sesiones en este estilo estan influenciadas por los sonidos de: Dylan, Panacea, Limewax, Noisia, SPOR, Black Sun Empire, Dj Hype, Pendulum, Dj Fresh, Future Prophecies...
En Abril de 2008 junto con Alvaro Pons y bajo el Pseudonimo ACSS han publicado su tema "Cum with Ass" en el netlabel español
THENEWHARDTECHNO.COM
junto con artistas como Zheta, Hardthor, Kahnnon vs Shaka.
Como dj ha pasado por gran cantidad de salas y eventos como:
///ZARAGOZA:
Bar Brazil, Kode Klub, Seven, LimitClub, Zona Limite, Psycodelic Underground, Pub Bisonte, Bar Barroko, Pitch Club, Reset Club, Roscon Rock 2008 / 2009 / 2010, San Jorge 2008, Bass Space, Sala Ibiza, Edison Estudio, Pilarave 2004, 2006 y 2007, Reclaim the beats, reclaim the streets 2008, Genkore, Asociación Cultural el Buscon, La Gallina, Arena Rock, Maripo Summer 2009
Limbo Avantgarde, Oasis Club, Sala Ultimatum, Sugart, CSO La vieja Escuela, Monkey Business,
Global Music @ Las Playas, Muffin Club, Peluqueria Kaotika, Sala Capitol, SuperClub, El Barrio,
///HUESCA:
Flow Microclub (Huesca), Disco Vertigo (Fiscal), Solar 2006 (Boltaña), Hazard Desert Festival (Fraga), Florida 135 (Fraga), Mountainbass 2009 / 2010 / 2011 (Fiscal), Discoteca Petronila (Benasque)
///MADRID:
The Hole, Pub Avalon (Aranjuez), Specka, Madrid Electronic Conference Festival, 13Kalles (Aranjuez), Krudel, Fabrik, Twist (Sala Wind - Sala Pirandelo - Sala Heineken), Sala Trilogy (Bohadilla del monte).
///CATALUÑA
ClubZoreks (Alcarrás - Lleida), Sala Campus (Badalona - Barcelona), Sala Seattle (Balaguer - Lleida), Day Of The Droids 14 @ Sala Estraperlo (Badalona), Sala KGB (Barcelona)
///ANDALUCIA
Club NYA (Sevilla)
///MURCIA
Sala Rojas - After SOS 4.8 2011
///MALLORCA
Casino Royale (Palma)
///GALICIA
Galician Hell (Monterroso - Lugo)
///CASTILLA Y LA MANCHA
Trauma (Toledo)
///VALENCIA
Dirty Speakers @ Shimoda
///USA
Company Bar (NYC)
///UK
Bangface TV @ Bangface Weekender 2010