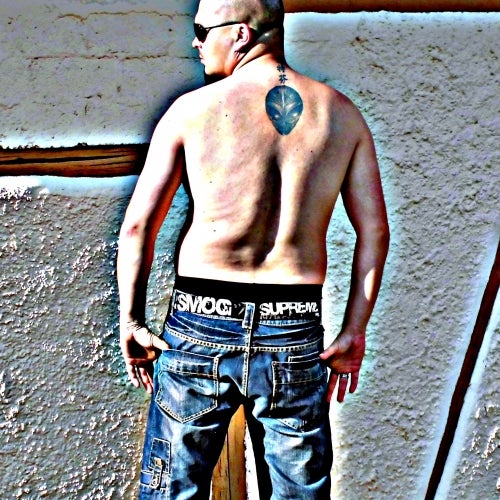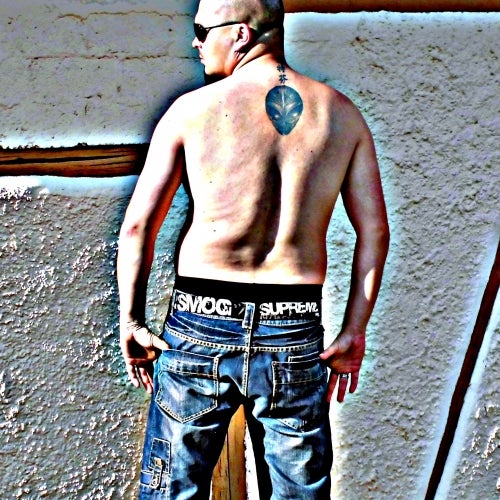 Bookinganfragen an Acid-Alien@hotmail.de
Biografie
Since my childhood I was infected with the music virus. Already at the age of 8, I cut cassette tapes secretly at night with the radio for my classmates with the latest versions of the current Maxi Dance to supply tracks.

More and more it crystallized, the electronic music out there and so it was the logical consequence that bands like Depeche Mode, Boytronic, Human League and others accompanied me for years and I was fascinated.
These novel and sometimes unusual synthesizer melodies were the ones I did not became out of my head and I began gradually each, Single or LP to buy from the respective artists.

In 1988 began the era of going out there and I was confronted for the first time with acid house. This new style of music was made for me. Rebellious, New coined impelling and oblique tones certain, because of this style of music to further my musical life. Though the DJ still be there at that time in the infinite distance and at that time was still not my goal was to be coined as a nickname already has remained so to this day ACID-ALIEN!

So it was the logical consequence of the use of that technology boom, no later than 1991 and the purchase of the first turntables and mixer that name as my DJ name was clear.

Over the years, developed a deep love for this music and was reflected in my life .... direct, always forward, forward looking and positive!

Yet was my DJ can not exist as hoped. With the birth of my two fantastic children, I put the mix into the background for me to fully concentrate on my then young family.

I go on Partys also at this time, never quite on, so I can now stand at an almost infinite Numbers of RAVES, FESTIVALS and CONCERTS look back, the inspire me impressed, and always did believe later hang himself again.

Whether Mayday, Love Parade, Nature One, Rave the City, Street Parade, Energy was everywhere and I am represented to this day.
The legendary OZ in Stuttgart was practically my Second Home and right there was where I learned to love uncompromising, driving and pumping techno.

Needed after the closure of the OZ found it quite a while until a new location celebration was, but this was soon found.

The no less legendary Prague!
Now the time had come, my old DJ skills again to refresh and I began to hang up at home first time just for me.
Significantly easier to me, the fact that with development of the digital age and computers to combine my love of it all was.

I now put on only digitally, because it gives me the opportunity at any time and anywhere to have my entire Reportaire it to without the hassle of lugging record boxes.
DJ also offer programs such as tractor operated exactly the kind of playing with loops and effects to my playful vein exactly.

My DJ style is characterized by hard driving, always going forward beats, which can sometimes also very experimental and are therefore at an angle, but always danceable! I break these sets also from time to time with techno tracks, vocals and loops Techno Classics and build it into my sets, so that they are always varied and distinctive. I refer to my own style as a Dark Techno and the standard BPM moves between 125-130 BPM

In June 2012, I had my first big show and the way in one of the most legendary clubs all over the world, namely the TRESOR in Berlin.

In July, a podcast followed at Deathtechno.com and on the Imperial Techno Series!



- German -

Schon in meiner Kindheit wurde ich mit dem Musikvirus infiziert. Bereits mit 8 Jahren schnitt ich nachts heimlich Kassettentapes aus dem Radio mit, um meine Klassenkameraden mit den neusten Maxiversionen der aktuellen Dance Tracks zu versorgen.

Immer mehr kristallisierte sich dabei, die elektronische Musik heraus und so war es die logische Konsequenz, dass Bands wie Depeche Mode, Boytronic, Human League und andere mich jahrelang begleiteten und faszinierten.
Diese neuartigen und teilweise ungewohnten Synthesizer Melodien waren es, die mir nicht mehr aus dem Kopf gingen und so begann ich nach und nach jede Single, Maxi oder LP von den jeweiligen Künstler zu kaufen.

1988 begann dann die Zeit des Ausgehens und dort wurde ich zum ersten mal mit Acid House konfrontiert. Dieser neuartige Musikstil war wie gemacht für mich. Rebellisch, Neu, Treibend und mit schrägen Tönen geprägt, bestimmte von da an dieser Musikstil mein weiteres Musikleben. Obwohl das DJ dasein damals noch in unendlicher Ferne war und damals auch noch nicht mein Ziel war, prägte sich da schon ein Spitzname der bis heute so geblieben ist ACID-ALIEN!

Deswegen war die logische Konsequenz, dass mit einsetzen des Techno Booms, spätestens ab 1991 und den Kauf des ersten Plattenspielers und Mixers dieser Name als mein DJ Name fest stand.

Über die Jahre entstand eine tiefe Liebe zu dieser Musik und spiegele sich in meiner Lebensweise....direkt, immer nach vorne, zukunftsorientiert und positiv!

Trotzdem verlief mein DJ dasein nicht wie erhofft. Durch die Geburt meiner 2 phantastischen Kinder, stellte ich das Mixen in den Hintergrund um mich voll und ganz auf meine damals junge Familie zu konzentrieren.

Die Feierei gab ich aber auch in dieser Zeit nie ganz auf und so kann ich bis heute auf eine fast unendliche Anzahll an RAVES, KONZERTE und FESTIVALS zurückschauen, die mich inspierierten, beeindruckten und immer daran glauben ließen, später selbst wieder aufzulegen.

Egal ob Mayday, Love Parade, Nature One, Rave the City, Streetparade, Energy überall war und bin ich bis heute treu vertreten.
Das legendäre OZ in Stuttgart war praktisch die 2.te Heimat und genau dort war es, wo ich lernte, kompromißlosen, treibenden Techno zu lieben.

Nach der Schließung des OZ brauchte es eine ganze Weile bis eine neue Feierlocation gefunden wurde, aber auch diese war bald gefunden.

Das nicht weniger legendäre Prag!
Nun war die Zeit gekommen, meine alten DJ-Skills wieder aufzufrischen und ich begann wieder zuhause erst mal nur für mich aufzulegen.
Maßgeblich erleichtert hat mir die Tatsache, dass mit Entwicklung des Digitalen Zeitalter und meiner Vorliebe zu Computer das alles vereinen konnte.

Aktuell habe ich zwar noch keinen festen Club oder größere Bookings erhalten, aber ich arbeite weiterhin hart an meinen DJ Fähigkeiten und diese werden im Freundeskreis sehr geschätzt und geliebt.
Ich lege mittlerweile nur noch digital auf, da es mir die Möglichkeit gibt, jederzeit und überall mein gesamten Reportaire dabei zu haben ohne lästige Plattenkisten zu schleppen.
Außerdem bieten DJ Programme wie Traktor genau die Art von Spielereien mit Effekten und Loops die meine verspielte Ader genau bedienen.

Mein DJ Style zeichnet sich durch harte treibende, immer vorwärts gehende Beats aus, die teilweise auch sehr experimentell und schräg daher kommen können, aber immer tanzbar sind! Ich durchbreche diese Sets auch immer mal wieder mit Techno Tracks, Vocals oder Loops alter Techno Classics und baue diese in meine Sets ein, so dass diese immer Abwechslungsreich und unverwechselbar sind. Ich selbst bezeichne meinen Style als Darktechno der sich BPM mäßig zwischen 125-130 BPM bewegt

2012 begann für mich sehr vielversprechend! Ich habe endlich mein eigenes Studio und auch Booking Technisch geht es vorwärts!


DJ and Producer Equipment
- Apple Mac Book Pro 15´Zoll 2,2 Ghz,QuadCore i7, 8gb Ram, 750gb FP 7200rpm, entspiegeltes Display
- Cubase 7
- Ableton Live
- NI Traktor Kontroll S4
- NI Traktor Kontroll F1
- NI Maschine (Version 1.6)
- NI Audio DJ2
- NI Audio 6
- M-Audio Fast Track Pro
- NI Reaktor 5
- NI Komplete 8
- Midi Keyboard M-Audio Oxygen-49
- Midi Keyboard Akai Mini APK
- various VST Plugin (for example Roland TB-303 Plugin)

Gigs

2012-06-20 Tresor Berlin (Germany)
2012-07-21 Death Techno Podcast (UK)
2013-Feb Blind Spot Music DJ Contest (UK)
2013-03-15 First Radio Show on Cuebase-FM (Germany) 14tägig im Wechsel Hardtechno & Darktechno


Read More
Acid-Alien
Bookinganfragen an
Acid-Alien@hotmail.de
Biografie
Since my childhood I was infected with the music virus. Already at the age of 8, I cut cassette tapes secretly at night with the radio for my classmates with the latest versions of the current Maxi Dance to supply tracks.
More and more it crystallized, the electronic music out there and so it was the logical consequence that bands like Depeche Mode, Boytronic, Human League and others accompanied me for years and I was fascinated.
These novel and sometimes unusual synthesizer melodies were the ones I did not became out of my head and I began gradually each, Single or LP to buy from the respective artists.
In 1988 began the era of going out there and I was confronted for the first time with acid house. This new style of music was made for me. Rebellious, New coined impelling and oblique tones certain, because of this style of music to further my musical life. Though the DJ still be there at that time in the infinite distance and at that time was still not my goal was to be coined as a nickname already has remained so to this day ACID-ALIEN!
So it was the logical consequence of the use of that technology boom, no later than 1991 and the purchase of the first turntables and mixer that name as my DJ name was clear.
Over the years, developed a deep love for this music and was reflected in my life .... direct, always forward, forward looking and positive!
Yet was my DJ can not exist as hoped. With the birth of my two fantastic children, I put the mix into the background for me to fully concentrate on my then young family.
I go on Partys also at this time, never quite on, so I can now stand at an almost infinite Numbers of RAVES, FESTIVALS and CONCERTS look back, the inspire me impressed, and always did believe later hang himself again.
Whether Mayday, Love Parade, Nature One, Rave the City, Street Parade, Energy was everywhere and I am represented to this day.
The legendary OZ in Stuttgart was practically my Second Home and right there was where I learned to love uncompromising, driving and pumping techno.
Needed after the closure of the OZ found it quite a while until a new location celebration was, but this was soon found.
The no less legendary Prague!
Now the time had come, my old DJ skills again to refresh and I began to hang up at home first time just for me.
Significantly easier to me, the fact that with development of the digital age and computers to combine my love of it all was.
I now put on only digitally, because it gives me the opportunity at any time and anywhere to have my entire Reportaire it to without the hassle of lugging record boxes.
DJ also offer programs such as tractor operated exactly the kind of playing with loops and effects to my playful vein exactly.
My DJ style is characterized by hard driving, always going forward beats, which can sometimes also very experimental and are therefore at an angle, but always danceable! I break these sets also from time to time with techno tracks, vocals and loops Techno Classics and build it into my sets, so that they are always varied and distinctive. I refer to my own style as a Dark Techno and the standard BPM moves between 125-130 BPM
In June 2012, I had my first big show and the way in one of the most legendary clubs all over the world, namely the TRESOR in Berlin.
In July, a podcast followed at
Deathtechno.com
and on the Imperial Techno Series!
- German -
Schon in meiner Kindheit wurde ich mit dem Musikvirus infiziert. Bereits mit 8 Jahren schnitt ich nachts heimlich Kassettentapes aus dem Radio mit, um meine Klassenkameraden mit den neusten Maxiversionen der aktuellen Dance Tracks zu versorgen.
Immer mehr kristallisierte sich dabei, die elektronische Musik heraus und so war es die logische Konsequenz, dass Bands wie Depeche Mode, Boytronic, Human League und andere mich jahrelang begleiteten und faszinierten.
Diese neuartigen und teilweise ungewohnten Synthesizer Melodien waren es, die mir nicht mehr aus dem Kopf gingen und so begann ich nach und nach jede Single, Maxi oder LP von den jeweiligen Künstler zu kaufen.
1988 begann dann die Zeit des Ausgehens und dort wurde ich zum ersten mal mit Acid House konfrontiert. Dieser neuartige Musikstil war wie gemacht für mich. Rebellisch, Neu, Treibend und mit schrägen Tönen geprägt, bestimmte von da an dieser Musikstil mein weiteres Musikleben. Obwohl das DJ dasein damals noch in unendlicher Ferne war und damals auch noch nicht mein Ziel war, prägte sich da schon ein Spitzname der bis heute so geblieben ist ACID-ALIEN!
Deswegen war die logische Konsequenz, dass mit einsetzen des Techno Booms, spätestens ab 1991 und den Kauf des ersten Plattenspielers und Mixers dieser Name als mein DJ Name fest stand.
Über die Jahre entstand eine tiefe Liebe zu dieser Musik und spiegele sich in meiner Lebensweise....direkt, immer nach vorne, zukunftsorientiert und positiv!
Trotzdem verlief mein DJ dasein nicht wie erhofft. Durch die Geburt meiner 2 phantastischen Kinder, stellte ich das Mixen in den Hintergrund um mich voll und ganz auf meine damals junge Familie zu konzentrieren.
Die Feierei gab ich aber auch in dieser Zeit nie ganz auf und so kann ich bis heute auf eine fast unendliche Anzahll an RAVES, KONZERTE und FESTIVALS zurückschauen, die mich inspierierten, beeindruckten und immer daran glauben ließen, später selbst wieder aufzulegen.
Egal ob Mayday, Love Parade, Nature One, Rave the City, Streetparade, Energy überall war und bin ich bis heute treu vertreten.
Das legendäre OZ in Stuttgart war praktisch die
2.te
Heimat und genau dort war es, wo ich lernte, kompromißlosen, treibenden Techno zu lieben.
Nach der Schließung des OZ brauchte es eine ganze Weile bis eine neue Feierlocation gefunden wurde, aber auch diese war bald gefunden.
Das nicht weniger legendäre Prag!
Nun war die Zeit gekommen, meine alten DJ-Skills wieder aufzufrischen und ich begann wieder zuhause erst mal nur für mich aufzulegen.
Maßgeblich erleichtert hat mir die Tatsache, dass mit Entwicklung des Digitalen Zeitalter und meiner Vorliebe zu Computer das alles vereinen konnte.
Aktuell habe ich zwar noch keinen festen Club oder größere Bookings erhalten, aber ich arbeite weiterhin hart an meinen DJ Fähigkeiten und diese werden im Freundeskreis sehr geschätzt und geliebt.
Ich lege mittlerweile nur noch digital auf, da es mir die Möglichkeit gibt, jederzeit und überall mein gesamten Reportaire dabei zu haben ohne lästige Plattenkisten zu schleppen.
Außerdem bieten DJ Programme wie Traktor genau die Art von Spielereien mit Effekten und Loops die meine verspielte Ader genau bedienen.
Mein DJ Style zeichnet sich durch harte treibende, immer vorwärts gehende Beats aus, die teilweise auch sehr experimentell und schräg daher kommen können, aber immer tanzbar sind! Ich durchbreche diese Sets auch immer mal wieder mit Techno Tracks, Vocals oder Loops alter Techno Classics und baue diese in meine Sets ein, so dass diese immer Abwechslungsreich und unverwechselbar sind. Ich selbst bezeichne meinen Style als Darktechno der sich BPM mäßig zwischen 125-130 BPM bewegt
2012 begann für mich sehr vielversprechend! Ich habe endlich mein eigenes Studio und auch Booking Technisch geht es vorwärts!
DJ and Producer Equipment
- Apple Mac Book Pro 15´Zoll 2,2 Ghz,QuadCore i7, 8gb Ram, 750gb FP 7200rpm, entspiegeltes Display
- Cubase 7
- Ableton Live
- NI Traktor Kontroll S4
- NI Traktor Kontroll F1
- NI Maschine (Version 1.6)
- NI Audio DJ2
- NI Audio 6
- M-Audio Fast Track Pro
- NI Reaktor 5
- NI Komplete 8
- Midi Keyboard M-Audio Oxygen-49
- Midi Keyboard Akai Mini APK
- various VST Plugin (for example Roland TB-303 Plugin)
Gigs
2012-06-20 Tresor Berlin (Germany)
2012-07-21 Death Techno Podcast (UK)
2013-Feb Blind Spot Music DJ Contest (UK)
2013-03-15 First Radio Show on Cuebase-FM (Germany) 14tägig im Wechsel Hardtechno & Darktechno